ELBOW 90D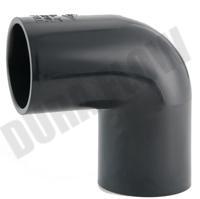 ELBOW 90D
&nbsp
E-CATALOG

Product ID: DFP L92
PVC, HIW-PVC ELBOW 90D, HT-PVC ELBOW 90D
Specifications:
Type:DFP L92
Material: PVC/HIW/PVC/HT-PVC
Size:1/2"~10"
Features:
NOTICES

INSTALLER:
THE PLASTIC SYSTEM PIPELINE DESIGN AND INSTALLATION MUST BE COMPLY WITH THE BUILT STANDARDS AND SPECIFICATION,MUST RE-CHECK THE APPLICATION SUBILITIES BEFORE INSTALLATION.
JOINTING-SOLVENT CEMENTING:
CHOOSE THE RIGHT PRIMER AND CEMENT AND USE THE PROPER APPLICATOR AND ACCORDING TO THE MANUFACTURER'S INSTRUCTIONS.
JOINTING-THREADED CONNECTIONS:
USE THE QUALTIY JOINT COMPOUNDS AND.OR TEFLON TAPE SEALING. SOME SEALING COMPOUNDS CONTAIN CHEMICALS TO CAUSE THE STRESS CRACKING. THE THREADED CONNECTIONS ONLY TAKE ONE OR TWO TURNS. DON'T DO THE OVERTHREADING.
Order Information:
Minimum Order: Negotiable
Reference Price: USD5000
Terms of Payment: T/T before shipment especially in the first business transaction
FOB: Keelung,Taichung,Kaohsiung Harbor in Taiwan